Also, Peter Mark Richman's play "A Medal for Murray," opened on July 27, 2013 at the Beit Lessin Theater in Tel Aviv, Israel and has now been running for 2 years. Touring all over Israel.. including Haifa and Jerusalem. (Translated into Hebrew.)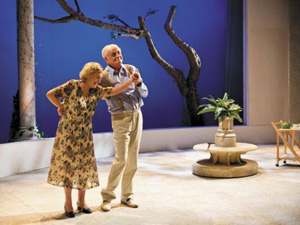 Miriam Zohar and Ilan Dar dancing in Peter Mark Richman's play, A Medal for Murray, performed in Israel.
My interview in the Jewish Journal just came out: (click here)

"A Medal for Murray," a play by Peter Mark Richman was translated into Hebrew and presented in Tel Aviv by the Beit Lessin theater and opened July 27, 2013. It is expected to have a very long run in Tel Aviv and tour many cities in Israel. The grand dame of Israeli theater, Miriam Zohar, plays the lead with distinguished actor Ilan Dar.
Here are some of the quotes from the critics:
"A MEDAL FOR MURRAY BY PETER MARK RICHMAN IS A MOVING COMEDY THAT DEALS WITH LOVE IN THE GOLDEN YEARS THAT FOCUSES A BEAM OF LIGHT ON MARRIED LIFE, ON THE ART OF COURTSHIP AND THE POSSIBILITY OF ETERNAL LOVE. THE PLAY IS A THEATRICAL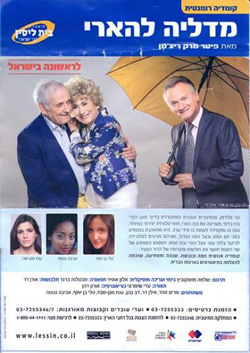 GEM (OR PEARL) THAT MOVES THE VIEWER TO LAUGHTER AND SOME TEARS, TO FEEL AND BE HAPPY... THE LAUGHTER IS ONE OF THE STRENGTHS OF THE PLAY AND SOMETIMES IT REACHES THE LEVEL OF HYSTERIA, BUT THIS IS CATHARTIC (A FEELING OF FREEDOM) WHICH BRINGS GREAT SATISFACTION TO THE VIEWERS ALL THROUGH THE FAMILY PLAY THAT'S UNFOLDING BEFORE THEIR EYES..."
--Top editor for VIP....Chaim Noi
"A MEDAL FOR MURRAY GRANTS THE AUDIENCE AN HOUR AND A HALF OF INTEREST, GOOD FEELINGS AND EVEN A SORT OF SPIRITUAL LIFT...I AM HAPPY TO REPORT THAT THIS PLAY IS EXACTLY WHAT IS NEEDED BY SOMEONE WHO IS IN THE DUMPS. IT CONVINCES US THAT LIFE IS SWEET AND HAPPINESS IS WITHIN REACH..."
--Michael Handelzalts...Haaretz
"THE SHOW IS A GREAT SUCCESS AND IT WOULD MAKE YOU HAPPY TO SEE THE AUDIENCE RESPONSE TO IT. PEOPLE COME OUT FROM THE THEATER AND ARE REALLY HAPPY WITH A HUGE SMILE ON THEIR FACES. I HEARD ONE WOMAN SAYING THAT IT GAVE HER HAPPINESS FOR AT LEAST A YEAR.
--Alon Ophir...the director
Peter Mark Richman - The Actor's Actor - Going Strong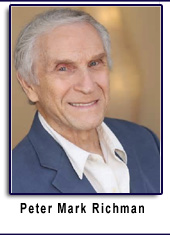 A great Light has been circulating Hollywood for decades, shining bright upon countless audiences of the stage, big and small screens - and that Light is the actor named Peter Mark Richman. A professional from the word go, Richman has been sharing his enormous and multifaceted talents with the world for over 50 years, with no sign of stopping.
Name any television program of any worth that ever aired, and Richman has appeared on it. Measure any scene in any TV show, motion picture or play in which he has ever performed, and he's hit his mark with precision. In fact, there are not enough numbers in the decimal system to properly calculate the number of times Richman has delivered the goods of his vocation.
On television alone his impact is astounding. From his early TV days on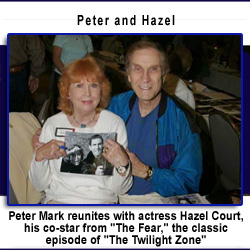 anthology shows like The Amrstrong Circle Theatre, Alfred Hitchock Presents, The Outer Limits, The Twilight Zone, through the 1960s on his own classic series, Cain's Hundred, to action/adventure shows like The Man From U.N.C.L.E., It Takes A Thief, through the 1970s on detective shows such as Longstreet, (on which he had a regular role), Baretta, Barnaby Jones, and Charlie's Angels, through the 1980s with Hart to Hart, Knight Rider, Dynasty, Star Trek: The Next Generation, on into the 1990s with Beverly Hills, 90210, and beyond.
Whether voicing God, or playing Suzanne Sommer's minister father on Three's Company ; whether voicing an animated Spider-Man, or confronting The Six Million Dollar Man live, Richman has done it all - with class, sophistication and elegance.
.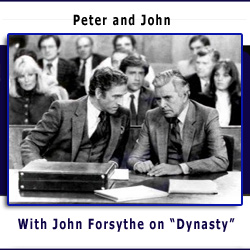 .......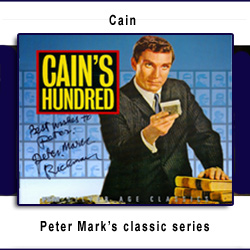 A few of his most cherished memories are from working on the anthology shows from the Golden Age of Television, such as Playhouse 90, The United States Steel Hour, and The Philco Playhouse. "They dealt with [fully-developed] stories, and characters," he says.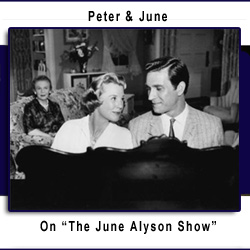 In those days, Richman lived in New York, and he would commute from the East to the West Coast whenever Hollywood beckoned. "I would land in Hollywood, fly back to New York, and then once my plane landed, I'd receive a call to return to Hollywood, and it continued like that for years. I was one of the migrating actors in the late 50s and 60s."
Eventually, Richman purchased a home in Woodland Hills, in which he and his lovely wife, actress Helen Richman, with whom he has raised five children, have remained "happily ensconced" ever since.
In fact, despite his over 500 TV appearances
alone, what he remains most proud
is his children, one of whom is the Grammy-award-winning music maestro Lucas Richman). "I have terrific kids," he says.
And they clearly have a terrific father, who is a terrific actor, and a fine human being, untethered and unaffected by the glitter and glamour of Hollywood - which is one of the reasons why he's going strong.
It also clarifies one of the reasons why has Richman is so blessed...because of his solid sense of family...his strong sense of priority...his delightful sense of humor...and his caring heart...all of which continues to contribute to that shining, bright Light of his humanity - that frequently sparks on screen, and off.
BY HERBIE J. PILATO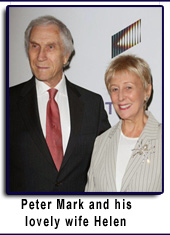 ---